Economic review and outlook
Recent Economic Developments in selected CESEE countries
Explore the latest updates on developments in selected CESEE economies, as published in the OeNB's "Focus on European Economic Integration".
CESEE nowcasting
Read on to check out our GDP flash estimates for eight CESEE economies. These model-based estimates, which draw on selected leading indicators, are reviewed at monthly intervals.
OeNB CESEE-Nowcast from September 2019: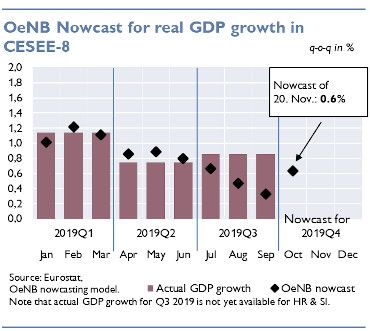 The OeNB Nowcast for CESEE-8 (Bulgaria, Czechia, Croatia, Hungary, Poland, Romania, Slovenia, Slovakia) stands at 0.5% (quarter on quarter) for the third quarter of 2019. This would imply a moderation of GDP growth compared to the second quarter of 2019 (0.8%). With this, the slowdown in GDP dynamics in the CESEE region continues. Growth is expected to weaken especially in Poland and Croatia. For Slovenia, the nowcasting model foresees a decline in economic activity for the first time since 2013.
The current OeNB Nowcast was revised downward by 0.2 percentage points compared to the last estimation in August 2019. This reflects a deterioration in the international environment and a general increase in economic uncertainty.
The OeNB and the Bank of Finland Institute for Economies in Transition (BOFIT) compile semiannual forecasts of economic developments in selected CESEE countries. They are based on a broad range of available information, including country-specific time series models for Bulgaria, Croatia, the Czech Republic, Hungary, Poland and Romania. The projections for Russia were prepared by the BOFIT and are based on an SVAR model. The forecasts are published in Q2 and Q4 of "Focus on European Economic Integration".
Download of the recent forecast (PDF, 0.3 MB)