Moderate Upswing amid High Uncertainty
(, Vienna)
The OeNB's Economic Outlook for Austria for 2014 to 2016; June 2014
According to its June 2014 economic outlook, the Oesterreichische Nationalbank (OeNB) expects the Austrian economy to grow by 1.6% in 2014. Exports will continue to be the main driver of the upswing this year, benefitting from the gradual recovery in the euro area and the moderate improvement in the global economy. Growth will accelerate to 1.9% and 2.1% in 2015 and 2016, respectively, being increasingly supported by domestic demand. HICP inflation is expected to decrease to 1.8% in 2014 and to 1.7% in 2015. According to the forecast, inflation will also remain moderate in 2016 (1.9%). "The prospects for the Austrian economy remain unchanged against the December 2013 outlook," OeNB Governor Ewald Nowotny said. "However, due to the Ukraine-Russia crisis, there are downside risks to the forecast."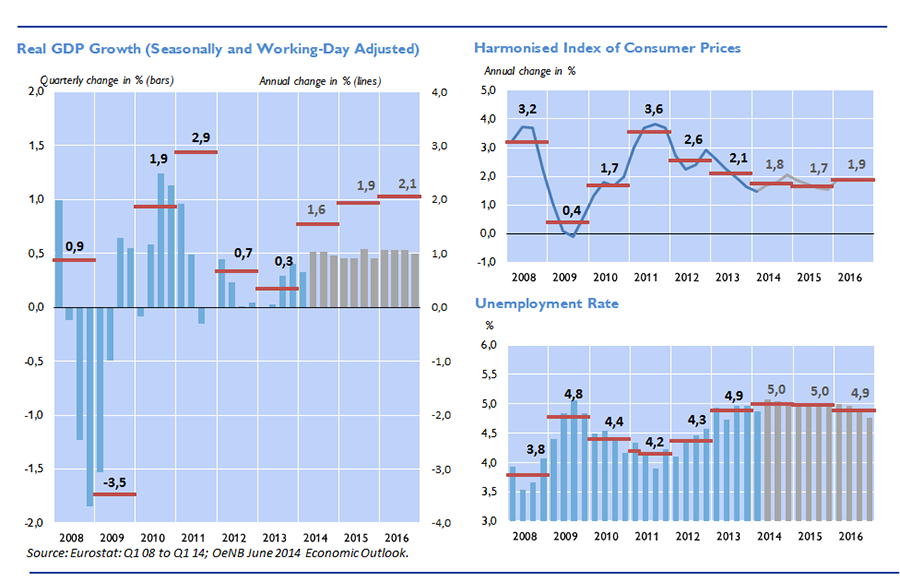 Global and Euro Area Growth Slowly Picking Up
Global economic activity has been on a moderate uptrend in the first half of 2014. As a result, the need for a further consolidation of public finances has diminished in many countries. In the U.S.A., growth is expected to gain additional momentum despite disappointing first quarter figures caused by unusually cold weather last winter. In Asia, the pace of growth is subdued but steady. The euro area has emerged from recession and is back on a positive growth path. While the euro area has succeeded in reducing severe domestic and external macroeconomic imbalances, persistently high unemployment, high private sector debt and restrictive lending continue to be a drag on growth.
The anticipated upswing of the Austrian economy is expected to be driven by an improvement in global economic conditions. Economic activity has been particularly lively in Germany, Austria's most important trading partner. Growth is expected to pick up across all of Austria's export markets but is likely to remain below precrisis levels. Austrian exporters' price competitiveness and market shares will remain almost unchanged over the forecast horizon.
Domestic Demand Also Supports Upturn of Austrian Economy
Private sector investment, which decreased in 2013, will revive on the back of necessary replacement investment, a more favorable sales outlook and improving sentiment. Amid persistent uncertainties, the growth of investment in plant and equipment will remain fairly modest. At the same time, the uptrend in housing investment is expected to continue as funding conditions remain benign and house prices are still rising. Lower inflation, continuously high employment growth and higher income growth on the back of the economic recovery will contribute to a steady increase in real disposable household income from 2014 to 2016. As a result, real private consumption is expected to grow by 0.7% in 2014, 1.0% in 2015 and 1.4% in 2016.
Unemployment Stable at Low Level
In line with developments observed in the past years in the Austrian labor market, both labor supply and employment continue to grow markedly. Therefore, the unemployment rate (Eurostat definition) is expected to remain broadly stable at 4.9% to 5.0% over the forecast horizon. This makes Austria the country with the lowest unemployment rate in the EU.
Inflation Remains below 2%
Price growth will continue to lose momentum as energy and commodity prices decline. HICP inflation will consequently drop further, reaching 1.8% in 2014 and 1.7% in 2015. As the economy picks up steam, inflation is expected to edge up to 1.9% in 2016.
Continued Need for Fiscal Consolidation
The Austrian general government budget balance (Maastricht definition) will deteriorate temporarily to –2.5% of GDP in 2014 on account of additional bank support. In 2015 and 2016, the budget balance will improve to –1.2% and –0.7% of GDP, respectively. The government debt ratio (based on ESA 95) is forecast to increase to 79.2% of GDP in 2014, mainly because of the restructuring of Hypo Alpe-Adria Bank International AG. The government debt ratio will fall to 75.3% of GDP in 2016. The OeNB expects that additional fiscal consolidation of some ¼% of GDP will be necessary to enable Austria to meet the structural deficit target of –0.45% of GDP that has been agreed upon with the EU.
OeNB June 2014 Economic Outlook for Austria − Key Results1

2013
2014
2015
2016
Annual change in % (real)
Economic activity
Gross domestic product
+0,3
+1,6
+1,9
+2,1
Private consumption
+0,1
+0,7
+1,0
+1,4
Government consumption
+1,4
+0,8
+1,2
+1,1
Gross fixed capital formation
−0,9
+0,8
+2,6
+2,9
Exports of goods and services
+2,5
+5,4
+5,4
+5,7
Imports of goods and services
+0,5
+3,9
+5,4
+5,8
% of nominal GDP
Current account balance
+2,7
+3,1
+3,4
+3,6
Annual change in %
Prices
Harmonized Index of Consumer Prices (HICP)
+2,1
+1,8
+1,7
+1,9
Income and savings
Real disposable household income
−1,1
+0,7
+1,8
+2,3
% of nominal disposable household income
Saving ratio
6,6
6,4
7,1
7,8
Annual change in %
Labor market
Payroll employment
+0,8
+1,1
+0,9
+1,0
% of labor supply
Unemployment rate (Eurostat definition)
4,9
5,0
5,0
4,9
% of nominal GDP
Budget balance
Budget balance (Maastricht definition)
−1,5
−2,5
−1,2
−0,7
Government debt
74,5
79,2
77,5
75,3
1 The outlook was drawn up on the basis of seasonally−adjusted and working day−adjusted national accounts data. Therefore, the values for 2013 may deviate from the nonadjusted data released by Statistics Austria. Calculated on the basis of ESA 95.