Proceedings of OeNB Workshops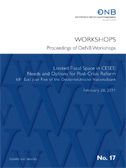 The issues of the "Workshops – Proceedings of OeNB Workshops" comprise papers presented at the OeNB workshops at which national and international experts – including economists, researchers, politicians and journalists – discuss monetary and economic policy issues. One of the purposes of publishing theoretical and empirical studies in the Workshop series is to stimulate comments and suggestions prior to possible publication in academic journals.
To get updated on new issues of this publication series, please subscribe to the newsletter.
> Subscribe to newsletter
2020
Workshop No. 22

August 2020 How Do Monetary, Micro- and Macroprudential Policies Interact?
2015
Workshop No. 21

September 2015. Toward a Genuine Economic and Monetary Union

Workshop No. 20

May 2015. Asset-liability management with ultra-low interest rates

Workshop No. 19

October 2014. Are House Prices Endangering Financial Stability? If so, How Can We Counteract This?
2012
Workshop No. 17

February 2011. Limited Fiscal Space in CESEE: Needs and Options for Post-Crisis Reform 68th East Jour Fixe of the Oesterreichische Nationalbank
2009
Workshop No. 16

September 2008. Dimensionen der Ungleichheit in der EU

Workshop No. 15

March 2009. Recent Developments in the Baltic Countries – What Are the Lessons for Southeastern Europe?

Workshop No. 14

September 2007. International Trade & Domestic Growth: Determinants, Linkages and Challenges
2008
Workshop No. 13

April 2007. The Experience of Exchange Rate Regimes in Southeastern Europe in a Historical and Comparative Perspective
2007
Workshop No. 12

May 2007. Emerging Markets: Any Lessons for Southeastern Europe?

Workshop No. 11

June 2006. From Bretton Woods to the Euro – Austria on the Road to European Integration
2006
Workshop No. 10

March 2006. Strategies for Employment and Growth in Austria

Workshop No. 09

March 2006. New Regional Economics in Central European Economies: The Future of CENTROPE
2005
Workshop No. 08

December 2005. Price Setting and Inflation Persistence in Austria

Workshop No. 07

October 2005. The European Integration Process: A Changing Environment for National Central Banks

Workshop No. 06

January 2005. Capital Taxation after EU Enlargement

Workshop No. 05

November 2004. Macroeconomic Models and Forecasts for Austria

Workshop No. 04

November 2004. Macroeconomic Models and Forecasts for Austria

Workshop No. 03

June 2004. 60 Years of Bretton Woods – The Governance of the International Financial System – Looking Ahead
2004
Workshop No. 02

March 2004. Current Issues of Economic Growth

Workshop No. 01

June 2003. The Transformation of the European Financial System – Where Do We Go? Where Should We Go?